The underground tunnels that moles dig can cause more damage than you'd think! These holes affect tree and plant roots, ruining flower beds and other landscaping. Not to mention, they expose stones that can damage your lawn equipment.
It's difficult to remove your mole problem on your own. They rarely expose themselves and their tunnel systems make it easy to escape. Moles can also be dangerous if you approach them, as they will bite.
Turn to the experts at Guaranteed Pest Control. We offer proactive maintenance services on a monthly, quarterly, and annual basis for mole control problems. Our technicians have the most experience in the industry and will provide you excellent service. Call us at 503-646-2119 today!
---
Townsend Mole
The most popular species of mole in Portland, and the Northwest is the Townsend Mole. The Townsend Mole differs from other moles, and is characterized by living in tunnels very deep underground. Townsend Moles come to the surface for food, and water, and is why we rarely see raised mole tunnels just under the surface of our lawns, and turf. Townsend Moles have dark velvety fur, a pointed snout, 44 teeth, and large front paws for digging. Mole ears are not visible and they have very small eyes.
Mole hills or mounds are typical throughout the Pacific Northwest, and are characteristic of the Townsend Mole.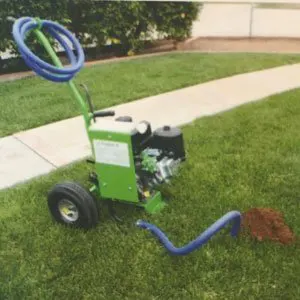 Feeding Habits
The Townsend Mole feeds primarily on insect larvae and earthworms. Moles are also known to eat other pest's in the lawn, and damage roots of plants.
Treatment
Because of the Townsend Mole's deep underground habitat, they are more difficult to eliminate. Moles that live near the grounds surface are much easier to trap.
Guaranteed Pest Control Service Co. has a successful history of eliminating moles from lawns, municipal parks, sports fields, and more. We use a smoke machine or trap, depending on what's best for the situation. Please call to speak with a technician about our experience getting rid of moles. Depending on the situation, we do gopher control as well.